Pacquiao-Mayweather Fight Will Not Happen
Yes. You read it right. The much awaited fight in boxing history will not happen. The Pacquiao vs. Mayweather fight will not happen.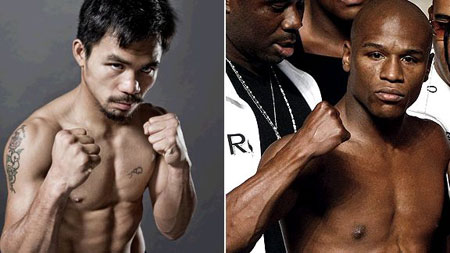 Manny Pacquiao's promoters say his prospective bout with Floyd Mayweather Jr. is dead after a mediation session failed to resolve the fighters' differences, scrapping what was likely to be the richest fight in boxing history.
The bout was slated for March 13 at the MGM Grand Garden in Las Vegas, but Top Rank said late Wednesday night it couldn't reach an agreement with Golden Boy Promotions, which represents Mayweather.
The promoters went into mediation on Tuesday to resolve their differences over drug testing for the fight. Both sides claimed every other detail for the fight had been decided.
The fighters apparently were close to a deal after the mediation, but subsequent discussions Wednesday led Top Rank to declare the fight canceled.
Source: [Yahoo News]
Many people expected and waited for this fight to happen. I even told to my self that I will definitely watch this on the big screen live. (if only can I fly to Vegas for this fight) I guess Mayweather is too afraid to fight Manny Pacquiao.
And there we are. Hurt. Depressed. Miserable.