Adidas King of the Road 2013
Here's another run-related entry. 🙂
Race: Adidas King of the Road 2013
Distance: 16.8K
Date: July 07, 2013
Venue: Bonifacio Global City, Taguig
This is my first time to the join the Adidas King of the Road 2013 run since I just started joining races last year. It is also my first time to run around the Bonifacio Global City area because the previous races that I joined in are all held around Mall of Asia area. I am very excited to explore the BGC race route as much as I'm excited for my first Adidas run and my first 16.8km race.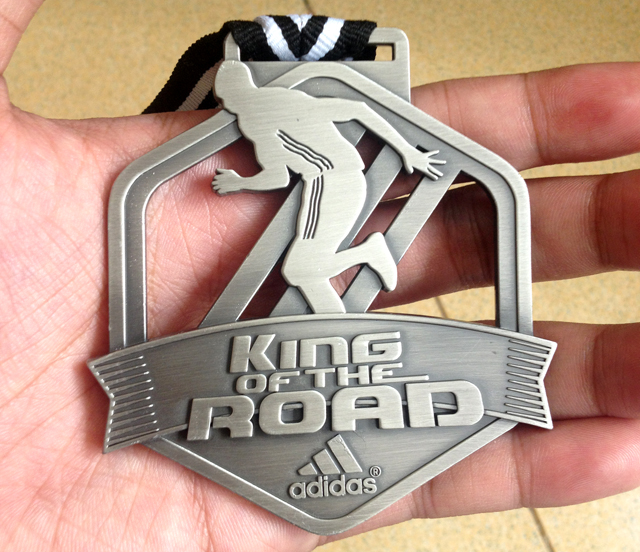 So we got there at the event 45 mins. before the 5:00 am gun start. We immediately deposited our bags to the baggage area designated for the 16.8K runners. Then I went to the Adidas Body Care booth located at the events ground to register and take the Adidas Body Care Challenge. The challenge is to spray the Adidas Deo Body Spray all over your body before the race. You will then asked with some survey questions regarding deodorant products that you use which is part of the challenge.
The race started just in time. It's been a while since I last did a long distance run and I thought my lack of training due to the weather (or may be just my excuse not to work my ass off) can be a problem. The first few kilometers is okay, I'm trying to work on my breathing as well as my pace with my brother. I avoided that sudden rush and excitement at the start that you get to forget your own pace and how your body would react for such sudden change of pace that you are not used to.
My problem with my cramping feet fingers happened around the 8-10km mark. I couldn't increase my speed because of my aching feet fingers. I don't normally experience this and I wonder why it hit me during the race. But it didn't stop me to keep moving. I managed to at least lessen my stops and keep up with the pace that I am working on.
When we reached the U-turn in Makati, my feet started to feel the cramps. Good thing I had some bananas on the U-turn and managed to eat them before I totally stop because of cramps. After eating the bananas, the GU gel kicked in and I am starting to feel energized again. When we reached the Kalayaan bridge heading back to BGC, I felt the energy that I want to finish the race as soon as I can. I am way below my expected time but I thought that its okay anyway considering that its my first time to run the KOTR as well as the BGC-Buendia route.
I finished strong but I didn't meet my expected time. I did it with a 02:17:11 on the clock. I am not sure if its just me or my GPS is not working well. It says I ran 19.03 km instead of the said 16.8K. When I checked with my friend, his Nike+ Running App and his GPS watch says the same with mine. So maybe the route itself is a little more extended than what it is supposed to. It's all good! What matters is that I got a shiny new medal to celebrate and include on my collection. 🙂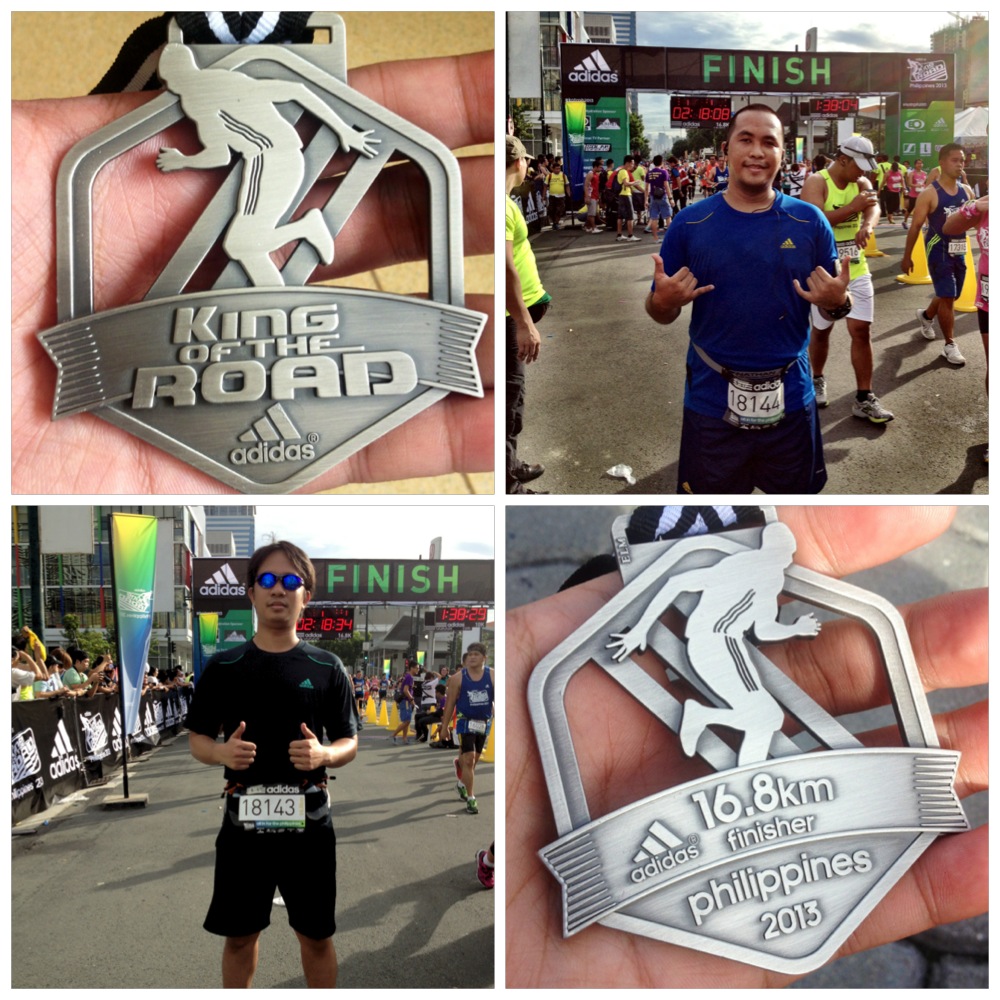 The Race Route
Since this is my first time here, I think I like the BGC-Buendia Route. I find the flyover very challenging. The BGC area is a very good place to run and the Buendia route is also one of my favorite. The intersections are bearable and I am just lucky that I don't get too much stops to let the cars go on stop lights. The traffic police and marshals did a great job managing the entire route and to keep the safety of every runner. The color coded direction markers are big enough to see so you won't get lost along the race.
Hydration
The hydration is well organized. Water stations and energy drinks are overflowing. The tables are long and distant so you don't have to jump in the crowd of runners getting some water. I like the fact that they serve cold water on water stations because on some races, they sometimes run out of cold water to serve. I didn't drink any energy drink during the entire course as I chose to drink water alone.
Post-Race Event
We didn't stay long at the venue after the race. Right after we got the medal and the race kit, we just rested a bit and went back to the Adidas Body Care booth where I needed to answer a few more survey questions and get my Adidas Body Care gift pack. 🙂 This is what my brother hate on this venue, the post-race event where it is too hot and sunny that you can't even find a tree or a tent to stay so you can cover yourself up from the sun. I am not sure if there's a guest band or any singer/performer there because we went home immediately after changing our clothes.
So that's my little race review of my Adidas King of the Road 2013 experience. I had fun! Till next year! 🙂
Keep on running! 🙂