Is Manila Ready For An Earthquake?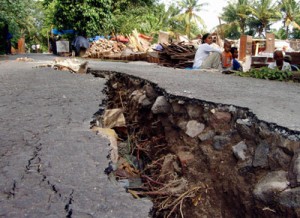 A few years ago, I handled a weather website. During that time, I had interest on these different kinds of natural phenomena like hurricanes, tornadoes and earthquakes. I hate earthquakes. I believe they're really unpredictable, and when they hit bad, it was really a total disaster. The first time that I saw some really strong earthquake was when Sichuan China was hit by a 7.9 magnitude earthquake last May 2008. It was really terrible and heart breaking.
Just this year, we had some reports of strong earthquakes all around the world. Haiti Region was hit by a 7.0 magnitude last January 12, 2010. Haiti earthquake cause a lot of damage and casualties. Another major earthquake hit Offshore Maule in Chile with a magnitude of 8.8 on February 27, 2010. The aftermath was more ravage than Haiti. The most recent major earthquake hit Southern Qinghai, China with a magnitude of 6.9 earthquake on April 13, 2010.
A friend of mine shared this video to me and I felt the urge of posting it here on my blog. It made me ask the same question that you see on the title of this entry. "Is Manila ready for an Earthquake?" I know that we experienced a lot earthquakes, volcanic eruptions, storms, floods and many other natural phenomenon. Do you think we are ready to face a major earthquake just like the ones that I mentioned on top? Some believes that Manila, Philippines will be next to be hit by the earthquake. The main earthquake fault line in Marikina Valley is not that stable anymore. I can't imagine that a 7.0 magnitude earthquake will hit us. I guess that we are not really prepared. Watch the video below from Anna Coren of CNN. You might ask the same question after… 🙂
Source: [CNN]