Hong Kong Adventure for Dummies – Volume 2
Wow. I can't believe I've been away from my blog for more than a month now. Anyway, I went to Hong Kong again for the 2nd time last August 8, and I had another fun and exciting week! My best friend lives in Tong Fuk, Lantau Island now so I spent most of my time on the beach side part of Hong Kong rather than the usual crowded city walk that I had on my first visit. I also managed to visit their newly born baby girl Jessica, and to celebrate birthdays with his wife and nephew.
The last time I was in Hong Kong, I experienced most of the major tourist destination that a typical tourist will include on their itinerary. Some of the list includes Hong Kong Disneyland, Hong Kong Ocean Park, Avenue of the Stars, Symphony of Lights, Victoria Peak, Temple Street, Mongkok Market and many more. It was a month full of Chinese food, double deck buses, MTR rides, and some of the best siomai that I ever tasted in my entire life.
My recent visit was a whole lot different from my first. From the busy streets of Hong Kong to a peaceful and beautiful island of Lantau, it is indeed a whole different scenario. It was more than a week full of beach views, skim-boards, Ferry rides, dance central and good friends.
I visited the "Tian Tan Buddha" also known as the "Big Buddha" which is located in Ngong Ping, Lantau Island HK. It was a 20 minutes bus ride from Tong Fuk. I went there by myself because everyone is busy during that time and I decided to go out alone. When I get there, the weather is a little gloomy because of a typhoon warning. But that didn't stop me from seeing the Big Buddha and to walk around Po Lin Monastery and Ngong Ping Village. The challenge is that I need to climb 240 steps to reach the upper platform of the Buddha. I saw a couple of Chinese Buddhists who climbs each step, kneels and then bows down to the ground and ask a prayer, and they do that on every single step. Can you imagine that? I remember those people in Quiapo Church who kneels from the door of the church up to the altar while praying the rosary. Anyway, here's a short background of the Tian Tan Buddha:
"…It is one of the five large Buddha statues in China. The Buddha statue sits on a lotus throne on top of a three-platform altar. It is surrounded by six smaller bronze statues known as "The Offering of the Six Devas" and are posed offering flowers, incense, lamp, ointment, fruit, and music to the Buddha. These offerings symbolize charity, morality, patience, zeal, meditation, and wisdom, all of which are necessary to enter into nirvana.

The Buddha is 34 metres (112 ft) tall, weighs 250 metric tons (280 short tons), and was the world's tallest outdoor bronze seated Buddha prior to 2007. It reputedly can even be seen from as far away as Macau on a clear day. Visitors have to climb 240 steps in order to reach the Buddha, though the site also features a small winding road to the Buddha for vehicles to accommodate the handicapped."

Source: Wikipedia.org
We also visited Tai O, a small fishing town located on the Western side of Lantau Island, HK. It is also known as the "Venice of Hong Kong" where you can see some of the "Pang uks" or stilt houses built around the town. Many foreigners and residents of other parts of Hong Kong visits Tai O to see the Pink Dolphins or the Chinese White Dolphins, an Indo-pacific Humpback dolphin that has a unique pink skin colour. We rented a small boat to take us to where the pink dolphins are. You need to keep your eye on the sea and be patient enough to wait for them to appear above the water. I wasn't able to take a picture of the dolphins but I got a video of the whole pink dolphin watching on my mobile phone. It was a fun and exciting experience!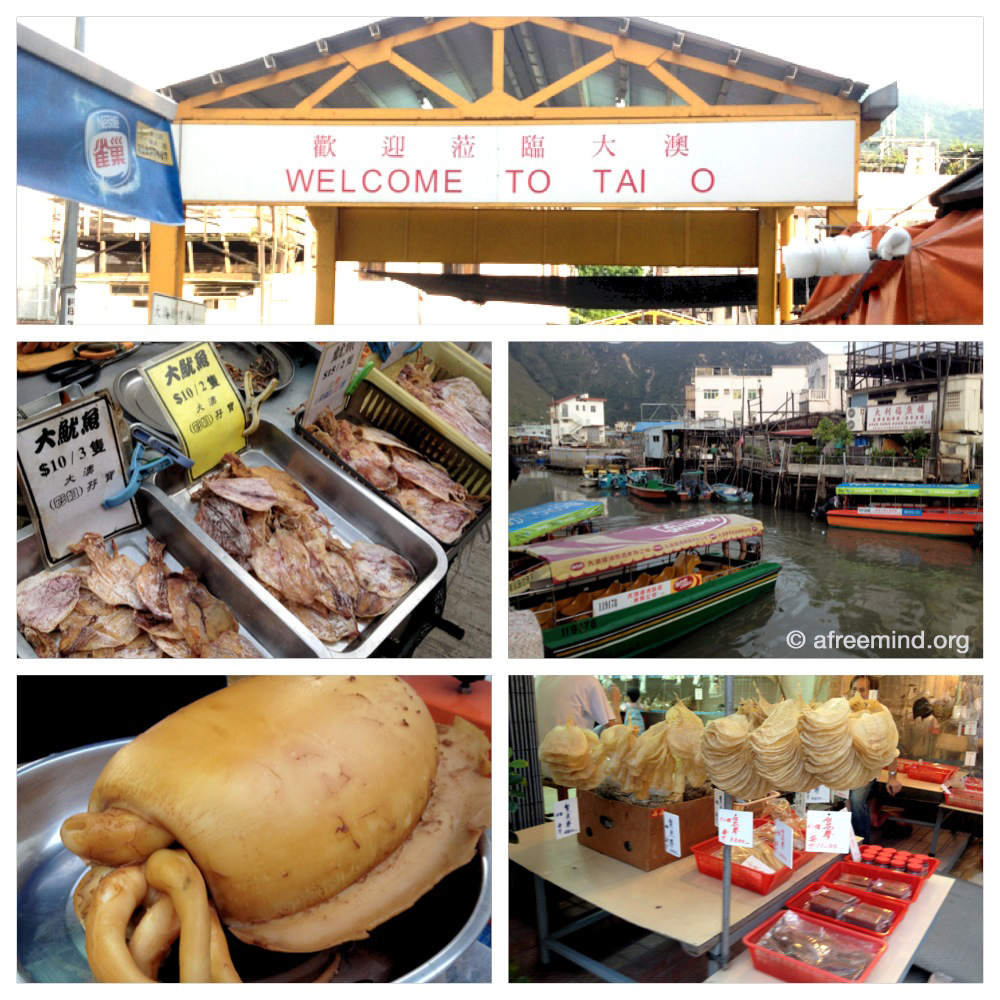 All in all, the experience was different from the usual itinerary of a tourist like me. It is always fun to visit and explore a foreign soil! And oh… my skin got darker because of the daily skim-boarding practice and beach bumming! I also forgot to mention the foods that I've eaten! As always, authentic Chinese food are always the best! 🙂 For those who are planning to visit Hong Kong and looking for other adventure, try visiting some of the places that I mentioned here. You should also try to visit some group buying sites like iGrab.ph for discounted vacation tours, health and wellness vouchers, food discounts and many more!
Anyway, I wish to go back again next year as my Hong Kong Adventure for Dummies continues… 🙂