Here's a very interesting post that I saw today from GTWM Blog and I was amazed how beautiful Manila was way way back before. I think it's around 60's or 70's. I couldn't help but re-post it here in my blog. If you guys have seen this one on emails that carries the subject "Old Manila" then forget checking the rest of the pictures. So for those who haven't, I am sure you will appreciate how our city used to be before. 🙂
From an email entitled, Old Manila. (click Read More to see more of the photos and text)
The environment was still very clean. Very little wires hanging from posts. I still remember Mackay Radio and La Estrella del Norte where my parents would shop.Based on the Oldsmobiles, Studebakers, Buicks & Pontiacs, I must have been 10 years old then.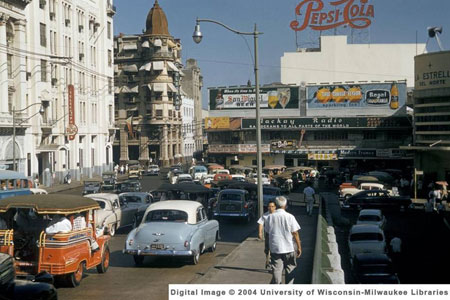 There were no Metro Aides, Bayani Fernando Cleaners, and stores cleaned their areas. Pedestrians were also very disciplined. Very little "hukays" and Manholes were clean and were clearly visible to pedestrians. People were so disciplined. Take a look at the Pedxings. I remember this part of Escolta as my Dad would buy us Boursege's from Greg Shoes or Ang Tibay. It could be much better looking than Colehaans and Ferragamos. The streets were shiny, much like the streets of Singapore now.
LYRIC Theatre (in the photo below), IDEAL, STATE, ODEON were the best theatres. Environment inside and outside… absolutely clean. There were no double parking allowed and drivers followed. Streets didn't have 2 policemen and 4 Traffic Aides for each corner. You'd be safe even if you held a clutch bag while shopping. Manholes were covered well and during those days, I remember them… as clean and polished, much like those you'd see in Champ Elysee'. We could beat Paris. Ang ganda ng bayan natin noon.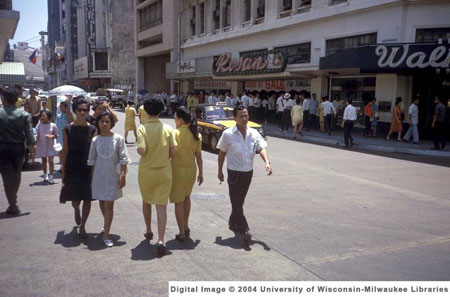 Dencia's was famous for Pansit Mami, much like Mamonluk or Ricebowl. P1.50 ang Mami, 10 sentimo ang coca cola. 5 centimo ang sarsaparilla. This was very near Villalobos and Carriedo. Look at the jeepneys. They were not overloaded.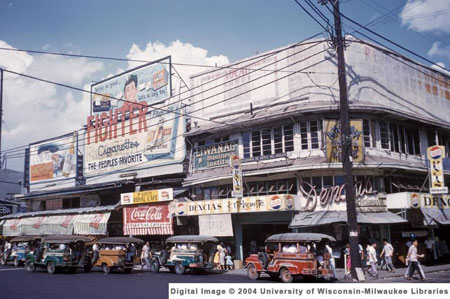 Pasig was very clean. The photographer must have taken this photo (below) October to December timeframe. But Pasig, during summer would have beautiful water lilies, tiny Quiapo's floating amidst white, yellow and purple water lilies that I remember. Water from our rich and abundant rivers were emerald green and blue. Napakalinis and walang amoy. In fact, I know for a fact that a lot of private yachts would pass through our Pasig River from various parts of Rizal, Malabon and Marikina. It was beautiful.
Manila was just a beautiful place.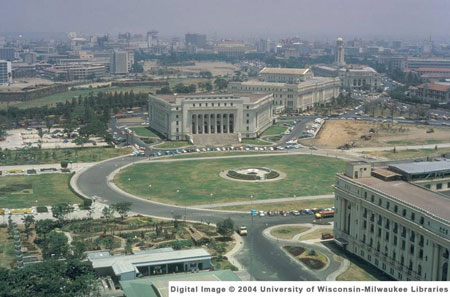 If you'd take an L5 plane or a Piper Cub and take pictures of Dewey Boulevard (now Roxas Boulevard) from above, you'd be so proud to say, that the place is much better than Cote ' d Azure. My Dad would even bring soldiers sick of asthma from the PAF, so that they could do early morning breathing exercises at 5AM. Environment was just so very clean, air was refreshing, and take a look at the sea…. wasn't that a gift given to us during those days?!
Sidewalks were not extended to suit the pedestrians. Quiapo Church was a blessed monument. Nagbibigayan ang mga drivers. Bihira ang nag-gigitgitan.
Avenida Rizal was a treat to everyone. There were no prostitutes nor body-brokers. Avenida was not a fickle place. It was not a "now a bistro boulevard, tomorrow a street; now a tiangge or night market and tomorrow a bistro boulevard". It was a simple avenida where everyone enjoyed to see what was "now showing", what movie was "extended showing", and if Otis or Good Earth had a big sale!!! It was just a big clean place.
Ayala Avenue was just like Wilshire Boulevard (Los Angeles). Clean and no pollution. You can walk and enjoy the sun. Napakalinis.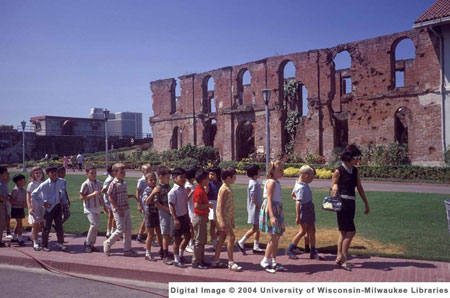 Even Parks like Fort Santiago was much better. No vendors, no cafe's. There was not even an ATM machine. Malinis ang paligid. What did we do to our environment? Sayang. Maswerte kami noon. Mas maswerte kami noon. We saw a country that was much cleaner, a much better place to live in and a truly healthy place.
And it makes me think why did our city end up like what we have now. Is it be possible for us to have it back again? I don't think so. Not with our current government. And maybe not again if we will choose the wrong President this coming May 2010 election.
Source: [GTWM Blog]