The Wrath of Typhoon Ondoy
It's been a week since I last updated my blog because of this typhoon that hit Manila last September 26, 2009. It is really a very terrible situation that we've been through. Many lives are lost as well as cars, houses, businesses and more other stuffs that a super typhoon could possibly ruin in a short period of time.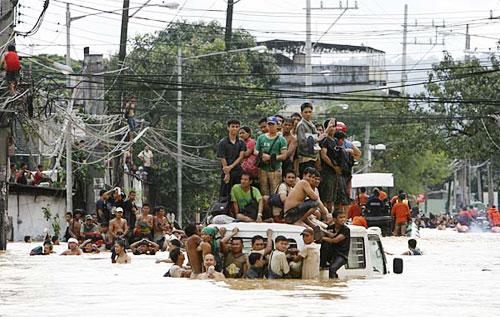 Reports said that Typhoon Ondoy or Ketsana brought a month's worth of rainfall along Metro Manila and nearby cities like Quezon City, Marikina City, Pasig City, Cainta Rizal, San Mateo Rizal and Montalban Rizal. The rainfall caused severe flooding of river water and mud from mountains resulting in the loss of many lives which I last heard is at around 300 deaths already and rising.
Here is a video that shows a family struggling for their lives to survive on the raging river in San Mateo Rizal:
Go to this BBC link for a full and clear video of the footage.
Reports said that only one survived on that scenario.
Living in our city for more than 20 years, this is the very first time that I experience such situation. I can't imagine that it really happened and I felt very sorry for those families who lost their loved ones. I pray that the entire community and nation can overcome immediately this terrible situation that we are all dealing with.
If you know someone who needs help check out these numbers:
Rescue Operations
National Disaster Coordinating Council (NDCC) (+632-9125668, +632-9111406, +632-9115061, +632-9122665) Help hotlines: (+65 734-2118, 734-2120)
Philippine Coast Guard (+632-5276136)
Air Force (+63908-1126976, +632-8535023)
Metro Manila Development Authority (136)
Marikina City Rescue (+632-6462436, +632-6462423, +632920-9072902)
Pasig Rescue Emergency Number (+632-6310099)
Quezon City Rescue (161)
San Juan City Hall Command Post (+632-4681697)
Bureau of Fire Protection Region III (Central Luzon) Hotline: (+63245-9634376)
Senator Dick Gordon (+639178997898, +63938-444BOYS, +632-9342118, +632-4338528)
Senator Manny Villar (+639174226800, +639172414864, +639276751981)
Civil Society/ Media
Philippine National Red Cross (143, +632-5270000)
Philippine National Red Cross Rizal Chapter operations center hotline: (+6326350922, +6326347824)
Go to GMA Facebook page & post complete addresses and names of people in need of immediate help.
ABS-CBN Typhoon Ondoy Hotline: (+632-4163641)
Jam 88.3: (+632- 6318803) or SMS at JAM (space) 883 (space) your message to 2968
For Credit Card/PayPal Donations, pls visit these links: