The Wrath of Typhoon Pedring
Reports said that at least seven were killed and thousands of families were affected as Typhoon Pedring/Nesat whipped through several provinces and cities in the Philippines on Tuesday, Sept. 27, 2011.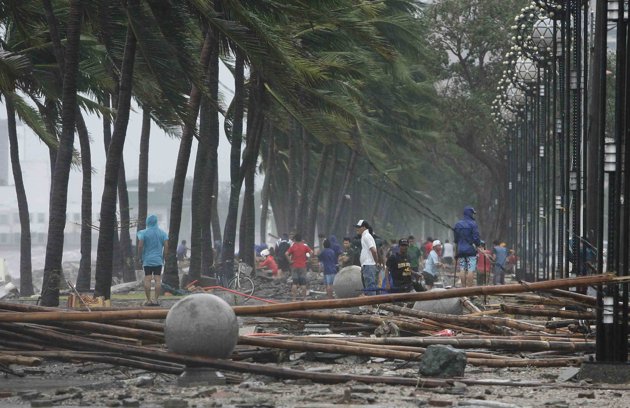 Bay walk area in Roxas Boulevard in Manila (Mike Alquinto/NPPA Images)
From Y! Ph:

Most deaths occurred in metropolitan Manila, which already was soaked by heavy monsoon rains ahead of Typhoon Nesat's arrival with more downpours and wind gusts of up to 93 mph (150 kph). Downtown areas along Manila Bay suffered their worst flooding in decades.

Typhoon Nesat hit ashore before dawn Tuesday in eastern provinces and headed inland just north of Manila with up to an inch of rain per hour, half that of the storm two years ago, said government forecaster Samuel Duran.

Manila, Philippines, Photo By AP/Bullit Marquez
People all over the Northern Philippines are worried that this could be the next Ondoy that hit the Philippines two years ago. At first, I didn't know that the Marikina River is already on the third warning alarm and hit the critical level yesterday afternoon until a friend called me. I can't turn on the TV to hear the news because our electricity at home turns on and off.
Marikina river reached a maximum of 19.5m of water last night which makes the Marikina government order a forced evacuation for the people who lives near the area. The water reached beyond the critical level which is 18 meters but around past 10pm, the water level dropped to 18.6m according to a friend who lives near the area. Good thing the rain didn't continue to tear down the city.
More photos after the jump.

Marikina River and Marcos Highway Bridge, Photo by Aileen Santos

Marikina River bound to city proper, Photo by REUTERS/Cheryl Ravelo
Credit: Y! Ph